UPDATE Within the next 30 days, this page will be removed. (May/09/03).
This website is being replaced by "Collecting Kreviazuk" within the next 30 days. Please use the content you see in these pages before that time. Reminder: No intellectual property is to be used elsewhere without Tanja's explicit written consent. Please contact her regarding questions or comments of this nature.


About This Site
Hello! My name is Tanja-Tiziana, and welcome to my tribute to
the greatest singer/songwriter on the planet... Chantal Kreviazuk.
This website was one of the very FIRST Chantal Kreviazuk sites
on the net! Formerly known as, "Tanja's Kewl Chantal Kreviazuk
Page!", that little page has come a long way, and developed into
a huge site. Be sure to explore all the areas, and sign the
guestbook... CHANTAL did! Yes you heard me right. She has
even been by a couple times, so be sure to leave her a message.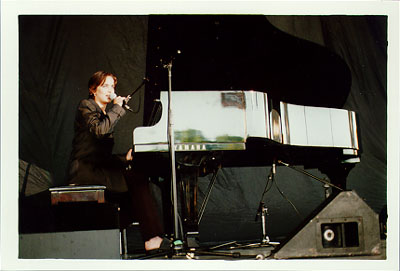 A Bit About Chantal
Chantal is a fabulous Canadian singer/songwriter.
Born in Winnipeg, Manitoba, Chantal began playing piano at the
age of 3. Today, she is an accomplished pianist, but as you
surely already know, has an absolutely stunning voice as well.
Her first album, "Under These Rocks & Stones" went double
platinum in Canada, and her sophomore release, "Colour Moving
And Still" is due out this October. To top is all off, she puts on
an absolutely breathtaking LIVE performance, and toured with
Lilith Fair in '98.

Updates...
June 8th, 2001
NEWS: Chantal will meet and greet with fans at 3 Eaton's locations!

other recent updates:
LYRICS: Finally, updated lyrics
SURVEY: A new survey, and the fave new song results!

other important stuff:
MAIL!: get yours -> you@greenapples.every1.net!!!


Webmasters:
Would you like to link to this page? Click here.

The Soul Pixie? Click here.

The Webring:


Keep this site alive,
Check out this site... ;-)


Posters has posters of all your fave artists!