Tabs/Chords
Let this page load!
The tabs are all on this page, it may take a little bit!
(THANKS TO ADAM FOR ALL HIS HELP)

These are the tabs/chords I have so far.

For guitar, well, what you see is what you get.
For piano, use the chords to try and improvise the song.
...except when it comes to SURROUNDED...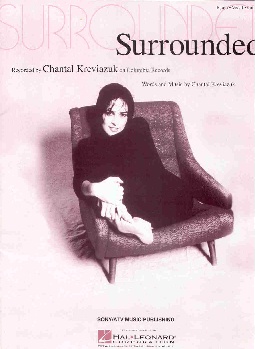 Yes pianists! I have scanned the sheet music for
Surrounded, and it's online!
Click on the cover image!

Other:
| | |
| --- | --- |
| | |

God Made Me


Intro: A5 A5 X4
(hit the A5 without holding on to it (staccato). Am can also be used)


Verse 1:
F
I'm jaded
C
And you're beautiful
F
I'm deluded
Am7
And envious of you
F
You're carin'
C
That I'm hurtin'
F
But I'm laughing 'cause I'm lyin'
Am7
And you believe what I say to be true



Chorus:
D D/F# G D D/F# G
This is the way God made me



Verse 2: (same as Verse 1)

No self-reliance
No social skills
You're confident
And you express yourself so well
You're learned
Degrees upon your wall
I'm jealous
No invitations to the ball


Chorus:(same as before but repeated)
This is the way God made me
This is the way God made me


Break:(repeat intro chords)


Verse 3:(same as before)

No self esteem
You're picture perfect
You walk about so contented
The trees call out your(freakin')name
You're clean and I'm so ignorant
I'm basic and I'm jaded
And my excuses are so lame


Chorus: (same as before - continue repeating)

This is the way God made me
This is the way God made me
This is the way God made me
I think this is just the way I'm meant to be yeah
This is the way God made me
Well there's no excuses it's just the way God made me
This is the way (hey yeah) God made me
It's just the way I am, it's just the way I am, It just the way I am.


Outro: A5 A5 (like the intro)


*~*~*~*~*~*~*~*~*~*~*~*~*~*~*~*~*~*~*~*~*~*
Back to the list...
*~*~*~*~*~*~*~*~*~*~*~*~*~*~*~*~*~*~*~*~*~*



Surrounded


Intro: A Bm


--Place this little piece in the intro
and between verses where needed:


e|---------10--9-----------------------|
b|---------------10--------------10----|
g|-------------------9---------------9-|
d|-9---------------------11--12--------|
a|---9---------------------------------|
E|-----7-------------------------------|



Verse 1:
A
I was there
Bm
When you shone as bright as Bethlehem from afar
A
I was there
Bm
When you were young and strong and perverted
A
And everything that makes a young man a star
Bm
Oh you were a star


Verse 2:
A
I was there
Bm
And I swear to God and on my mother's grave
A
On everything I have or ever will embrace

I was there
Bm
And I saw it with my own two eyes



Chorus:

A D
And now it's all around me
A D
It's all around me
Bm
I'm surrounded
A D
And now it's all around me
A D
It's all around me
Bm Bm A
You surround me like a circle


Verse 3: (same as Verse 1)

I was there
C'mon and tell me I wasn't worth
Stickin' it out for
Well I was there
And I know was worth it
'Cause if I wasn't worth it
That makes me worse off then you are


Chorus: (same as before)

It's all around me
It's all around me
I'm surrounded
You know it's all around me
It's all around me
You surround me like a circle


Bridge:
A D A D
But don't you lose
G
sight of me now
A D A D
Don't you lose
G
sight of me now


A Bm
(do do do do do don't lose sight on me now)



Verse 4: (same as Verse 1)

I was there
When they dropped the bomb
Ya' know I remember the bomb
And I still hear the bomb
And I still fight the bomb
You know I still fear the bomb
You know I still hate the bomb
Sometimes I still get the call


Bridge & Chorus Mix: (same chords as Bridge)

So don't lose sight of me now
Don't lose sight of me now (repeat as background vocals)
You know you're all around me
All around me
I'm surrounded
You know you're all around me
All around me
I'm surrounded
You know you're all around me
All around me
I'm surrounded
You know you're all around me
All around me
You surround me like a circle
I'm surrounded...oh.

A D
Oh. Like a circle around me
A D
la la la la yeah....around me now

ah...


*~*~*~*~*~*~*~*~*~*~*~*~*~*~*~*~*~*~*~*~*~*
Back to the list...
*~*~*~*~*~*~*~*~*~*~*~*~*~*~*~*~*~*~*~*~*~*


Believer


Intro: Piano begins alone and then guitar joins in.
The chords remain G followed by F throughout.


Verse 1:
G F Bb G
I carry my microphone with me
G F Bb G
Everywhere I go
G F Bb G
It makes for a very good deadweight
G F Bb G
In case of an emergency
G F Bb G
In case I need to break your face
G F Bb G
In case I need you to be dead


Chorus:
G F Bb G
Who do you think you are?
G F Bb G
Who do I think you are?
G F Bb G
I know who you are
G F
And it's hard to believe that
C Bb F Bb G F G F
God made you and me with the same hands
G F G...
With the same hands


Verse 2:(same as verse 1)
Sit?
I tell my doggie to sit
But I am not a dog
But you make the animal in me
Want to come out all over you.


Chorus:(same as before)
Who do you think you are?
Who do I think you are?
I know who you are
And it's hard to believe that
God made you and me with the same hands
With the same hands


Break: (Continue in the same progression)


Who do you think you are?
Who do I think you are?
I know-

Who do you think you are?
Who do I think you are?
I know who you are
And it's hard to believe that
God made you and me with the same hands
With the same hands, with the same hands.
With the same hands.

G F C F G F G
And it's hard to believe that I'm still a believer.


*~*~*~*~*~*~*~*~*~*~*~*~*~*~*~*~*~*~*~*~*~*
Back to the list...
*~*~*~*~*~*~*~*~*~*~*~*~*~*~*~*~*~*~*~*~*~*



Grace


Intro: D G D


Verse 1:
D
Please don't go
Dsus4 D
I can not breathe you in

Your air is too big for me
D/F# G
And it makes my lungs sting
D
Please don't go
Dsus4 D
I can not walk beside

Think I'll stay behind a mile
D/F# G D/F#
'Cause I don't need you crampin' my style


Chorus:
Em7 D
How do you still have grace?
Am7 D
Mercy, mercy
Em7 D
To keep kissing my face
Am7 D
Even though I am wrong, wrong,

Wrong, wrong


Verse 2: (same as before)
Please don't go
Without you I am weak
Find myself drinkin' and sinkin'
Seekin'
Please don't go
Sometimes it gets so cold
But I'd rather grab for a blanket
Instead of walkin' into your comfort zone


Chorus:(same as before)
How do you still have grace?
Mercy, sweet mercy
To keep kissing my face
Even though I am wrong, wrong


Bridge:
Em7 D Am7 D
ooooh...
Em7 D
I know I've wronged you
Am7 D
I know I've hurt you
Em7
So many times
D D/F# G Am7
I hope I haven't scarred you
Em7 D
You still have grace
Am7 D
And you still have mercy
Em7 D
To keep kissing my face
Am7 D
Even though I am wrong, wrong,

Wrong, wrong

(continue pattern)
You still have grace
Mercy, mercy
Keep kissing my face
Even though I am wrong, wrong,
Wrong, wrong

Ending:
Em7 D
If you keep kissing my face
G Em7 D
One day I'll no longer do you wrong.


*~*~*~*~*~*~*~*~*~*~*~*~*~*~*~*~*~*~*~*~*~*
Back to the list...
*~*~*~*~*~*~*~*~*~*~*~*~*~*~*~*~*~*~*~*~*~*



Wayne

Intro:

e|-------------------------------|
B|-3----1----------1----0--------|
G|---2-----2----------2---0--2---| x4
D|-------------------------------|
A|-------------------------------|
E|-------------------------------|


Verse 1:

Dsus4 D
I'll be the girl with the long blond hair
Dsus2 D
And the really pale skin if you care
Dsus4 D
I sit in the corner of the room
Dsus2 D
Cross legged and quiet filled with
Dsus4 D Dsus2 D
doom.

Dsus4 D
I never ever liked the smell in here
Dsus2 D
It's cold and wet and reeks of beer
Dsus4 D
The lights are turned out permanently
Dsus2 D Dsus4
But that's ok 'cause I don't want to see.


Chorus:
Am C
Wayne
G D
Wait for me
Am C
Take me up in your hot-air balloon
G D
And feed me cotton candy
Am C
Wayne
G D
Pray for me
Am C
'Cause I'll be there in a couple of years
G D Dsus4 D
Until then, wait for me


Verse 3:(same as before)

Who's the strange lady
With the big silly hair
And berries on her face
Dressed like a pear
Do I really have to hold her hand
And pretend she's my mommy,
You're the wife and man
When I know you're not my mommy

It's crowded and I feel
Lost in here
I'm trying to find a familiar fear
I look everywhere
But I just can't see
There's not anything that remind me
Of me oh


Chorus:(same as before)


Bridge: not really any chords to strum here, but you can play
the following chord or pic it up and down and you have a somewhat
similar sounding pattern (not quite, but my best attempt at this point)-
e|-10-|
B|--8-|
G|--7-|

You make me fresh as flowers
Under these rocks and stones


Break: play the chorus progression


Chorus:(same as before, repeat and end with progression from verse)


*~*~*~*~*~*~*~*~*~*~*~*~*~*~*~*~*~*~*~*~*~*
Back to the list...
*~*~*~*~*~*~*~*~*~*~*~*~*~*~*~*~*~*~*~*~*~*



Hands


Intro: C# B x4

F# B D#m C# x4
(oh...)


Verse 1:
F# B D#m
There's a man outside my door tonight
C# F# B D#m C#
He cries for help, he sings a pleading song
F# B D#m
Well times are tough for everyone
C#
Gotta hold on to what I got
F# B D#m C#
And just kind of cruise along


Bridge:
B C#
Well I do
F# B
Want to be helpful
B C# F# B
But it's cold and I'm told
C#
You can't be too careful


Chorus:
F# B D#m C#
Out of the mouth of a mother
F# B D#m C#
Into the hands of a brother
F# B D#m C#
Into the heart of a lover
F# B D#m
And out of the hands of another
C#
-doo doo doo, doo doo doo-


Verse 2:(same as Verse 1)
You can never tell who your neighbour is
Or what he's doin' at night or who his friends are
Well you don't know where he's from
Or where he's been or who he knows
You know you can't be too careful
These days


Bridge 2:(same as Bridge 1)
Well I do want to be helpful
Whoa but it's cold
And I'm told he might just be the devil


Chorus:(same as before)
Out of the mouth of a mother
Into the hands of a brother -doo doo doo, doo doo doo-
Into the heart of a lover
And out of the hands of another -doo doo doo, doo doo doo-


Middle 8:
C#
Well I don't take chances

And I don't take time to see

And I don't take nothing
F# B D#m C#
From nobody
F# B D#m C#
No way - not me -doo doo doo, doo doo doo-
F# B D#m C#
Oh!
F# B D#m C#
-doo doo doo, doo doo doo, doo doo-


Chorus: (same as before-repeat a few times and fade)


*~*~*~*~*~*~*~*~*~*~*~*~*~*~*~*~*~*~*~*~*
Back to the list...
*~*~*~*~*~*~*~*~*~*~*~*~*~*~*~*~*~*~*~*~*



Disagree

Intro: C F (repeat)

oh... you know it, you know I'd rather disagree


Verse 1:

C F C
You tell me what you want from me
F C
Well I'm not saying I'll believe
F C
I could solve your mystery
F C
But I would rather disagree

C F C F C F C
oh... you know it yeah, you know it, I'd rather disagree


Verse 2: (same as Verse 1)

You say the truth will set me free
So how come you're comin' down on me
You think it's real if you can see
Well I don't take to that philosophy


Chorus:
F C
'Cause you know I would I would I would I would I
F C
Yeah, I would I would I would I would I
F C
I would I would I would I
F C F C
Yeah, I would rather disagree
F C F C
Yeah, I would rather disagree


Verse 3: (same as Verse 1)

Do you see yourself inside of me
And do I take away your miseries
Am I just one more catastrophe
Yeah, I always say what I don't mean


Chorus:
F C
You know I would I would I would I would I
F C
I would I would I would I would I
F C
I would I would I would I would I
F C F C
Yeah, I would rather disagree
F C F C
Yeah, I would rather disagree
F C F C
I'd rather disagree
F C F C G
I would rather disagree


Bridge:
F G
Don't ya feed me I'm full
F G
You know I'll starve before I fall
F G F C
Don't bleed me, don't bleed me.
F C
Even if you're right
G
Even if I'm wrong
F C
Even if you're right
F C F C
Even if you're wrong
F C
I'd rather disagree

F C F C (continue C F pattern)
I would rather disagree, I would rather disagree
oh, I would rather disagree, I would rather disagree
I would rather disagree, I would rather disagree
I would rather disagree, I would rather disagree
Even if you're right
Even if I'm wrong
I would rather disagree...


*~*~*~*~*~*~*~*~*~*~*~*~*~*~*~*~*~*~*~*~*
Back to the list...
*~*~*~*~*~*~*~*~*~*~*~*~*~*~*~*~*~*~*~*~*



Green Apples

Capo: 3rd
Intro: A D A F#m D E A X2

Chorus:
A
You're toast and jam
D A
And you're cotton candy
F#m D
You're double rainbows
E A
Beside a setting sun
A
You're wood burnin' outside
D A
There's a fire growin'
F#m D
You're sweet as green apples
E A
You must be the one


Verse:
A
You bring me to the heart of a golden man
F#m D E A
You bring the natural truth
A
You take me to a solid hollow
F#m D A
And keep me sailing in this ocean of youth


Chorus: (same chords as before)


Verse 2:
A D A
So take me to an altar of diamonds
F#m D E A
And run with me through the sheets of jungle rain
A
Show me all your manly mystery
F#m D E A
And let me heal your beautiful pain


Bridge:
F#m A
Be my island in crowds of faces
F#m A
My oasis
F#m D A
Be there


Verse 3:
A D A
Lead me to the holy water
F#m D E A
Introduce me to the place you are from
A D A
Wherever you go you know I will follow
F#m D E A
So take me there and I will come, I will come


Chorus: (same chords as before... repeat and fade)


*~*~*~*~*~*~*~*~*~*~*~*~*~*~*~*~*~*~*~*~*~*
Back to the list...
*~*~*~*~*~*~*~*~*~*~*~*~*~*~*~*~*~*~*~*~*~*



Boot

Intro: Em Bm Am D x3


Verse:
Em Bm
Never been here before
Em D
Never opened up this door
Em Bm
But I got a feelin'
Em D
It's just like the others
Em Bm
Never heard him laugh before
Em D
Never felt him feel before
Em Bm Em D
But I got a feeling it's just like the others


Chorus:
Am D
He's got a big boot
Am D
He's got a big hand
Am D Am D Am D Am D
He's got a big fist to put me down
Em D Am D
Here we go again


Verse 2:
Em Bm
Never heard him lie before
Em D
Never heard him cry before
Em Bm Em D
But I got a feeling it's just like all the others
Em Bm
Never heard him dream before
Em D Em D
Never felt it before
Em Bm
But I got a feeling it's just like the others


Chorus:
Am D
He's got a big boot
Am D
He's got a big hand
Am D Am D
He's got a big fist to put me down
Am D
He's got a big mouth
Am D
And he's got big words
Am D Am D Am D
And he's got a big knife to cut me down
Am D Am D Am D
Is it all Is it all because of the fall
Am D Am D
But it's not my fault
Am
How long
D
How long
C D Am D Em D Em D Em D
How long do I have to long


Verse 3:
Em Bm
Never been here before
Em D
Never walked up this door
Em Bm
But I got a feelin'
Em D
It's just like the others


Chorus:(same chords before...)


*~*~*~*~*~*~*~*~*~*~*~*~*~*~*~*~*~*~*~*~*~*
Back to the list...
*~*~*~*~*~*~*~*~*~*~*~*~*~*~*~*~*~*~*~*~*~*



Co-Dependant

Intro: Piano by itself plays the verse chords (see below),
and then an overdriven guitar comes in with:

E E G A x3

play that piece 3 times, and then come in with the
verse chords.

Another guitar plays the following riff
3 times throughout the intro:

e|--------------------------|
G|--------------------------|
B|---7--9--9--9--7----------|
D|-9----------------9--7--6-|
A|--------------------------|
E|--------------------------|



Verse 1:

G Bm
When I go swimming
D E
In your intellect
G Bm
The water's so shallow
D E
And the dialect
G Bm
Is so phony
D E
But I eat it up
G Bm
Like Bologna
D E
I can't get enough


Chorus:
Bm C G D
Well I should end it
Bm C G D
But I defend it
Bm C G D
And I can't comprehend it
Bm C D
'Cause I'm you're co-dependant



Verse 2: (same chords as Verse 1)

When you go fishing
For a compliment
It's so,
So obvious
But I can't help it,
So I put up with it
'Cause you're my habit
And I just can't quit


Chorus: (same chords as before)

Well I
Should end it
But I
Defend it
Well I
Keep on pretendin'
'Cause I'm
Your co-dependant


Solo: E E G A (as intro)


Bridge:
G Bm E
The world keeps spinnin'
G Bm E
Lucifer keeps sinnin'
G Bm E
The joker keeps grinnin'
G Bm E
But I need a new beginnin'


Solo: (same chords as previous solo)


Chorus: (same chords as before)

Well I
Should end it
But I
Defend it
Well I
Don't recommend it
'Cause I'm
Your co-dependant
Well I
Should end it
But I
Defend it
Well I
Can't comprehend it
Baby be my,
Co-Dependant


*~*~*~*~*~*~*~*~*~*~*~*~*~*~*~*~*~*~*~*~*~*
Back to the list...
*~*~*~*~*~*~*~*~*~*~*~*~*~*~*~*~*~*~*~*~*~*



Actions Without Love


Intro: C G x2

Verse 1:
C G
He ran a marathon
G C
He didn't quite finish
G C
He didn't quite cross the finish line
Am F
Actions without love
C G C G C
It never really crossed his mind


Verse 2:
G C
He sure got the accent down
G C
And he sure can swoon the ladies
G
And ya know
C
One day he'll learn
Am F
Actions without love
Am F
Actions without love
C G C G C
The whole bloody language


Verse 3:
C G C
She pulled out her chequebook
C G
She asked what the date was
G C
She had to double-check
A F
Actions without love
Am F
Actions without love
C
She had to have an audience
Am F
Actions without love
Am F
Actions without love
C
Love.


*~*~*~*~*~*~*~*~*~*~*~*~*~*~*~*~*~*~*~*~*
Back to the list...
*~*~*~*~*~*~*~*~*~*~*~*~*~*~*~*~*~*~*~*~*



Dealer


Intro: F C (repeat)
(spoken)
That puts me in a good mood, we can go surfing
Wow, we should go surfing
We should go surfing
Surf this groovy vibe

Aaah....


Verse 1:
C
I'm gonna be a rich girl

Some kind of philanthropist

I'm gonna get high then get pissed,

Not be addicted to nothing

I'm gonna be a wife and a mom

And when I call people will come

Everybody will listen to me
C G C F
But my hand will stay clean



Chorus:
F
Can you see it?
G
Did you see the fine print
C F C
There are applicable taxes
F C F
Details inside the back
G F C
I'll see my dealer for contest rules.



Verse 2: (same as verse 1)

I'm going to go hungry
I'm going to fight the fight
I'm going to learn to go without
I'm gonna feel no hunger
I'm going to carry the cross
I can carry the weight of the world.
I can cry all the tears
But it's not going to hurt


Repeat Chorus and add this ending:
C
I'll see my dealer
C F C F C
I'll see my dealer


Repeat First Verse


Repeat Chorus twice and add this ending:
C
I'll see my dealer
C F C F C
I'll see my dealer


(spoken)
Wow surfing was great
Oh man, I love surfing
Nice day, eh?


*~*~*~*~*~*~*~*~*~*~*~*~*~*~*~*~*~*~*~*~*
Back to the list...
*~*~*~*~*~*~*~*~*~*~*~*~*~*~*~*~*~*~*~*~*